It was a grey and torrentially wet February day – not ideal conditions for trudging through the busy streets of London.  It was, however, the perfect setting for lunch at Honey & Co, a tiny, cosy and much lauded Middle Eastern restaurant, nestled away in the capital's Fitsrovia district.
Honey & Co was opened by Israeli-born couple Sarit Packer and Itamar Srulovich after many years of working as chefs in their own right, Sarit at Middle Eastern mecca Ottolenghi's and Itamar in various places in Tel Aviv.  They describe their restaurant as "a labour of nothing but love and an extension of our home".  Cosy and compact, in particular, are definitely words that spring to mind as you enter the premises, where tables are arranged tightly together against white walls and a traditional tiled floor.  Honey & Co also functions as a café and guests can choose from a large selection of pastries (the plum, pistachio and almond cake is very good), baked daily at the restaurant to take away.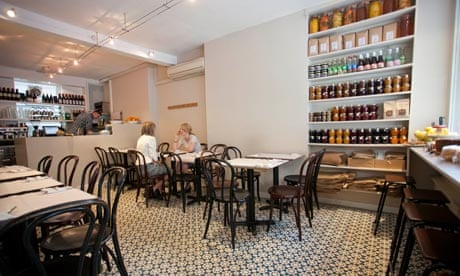 Pictured top: Honey & Co founders, Sarit Packer and Itamar Srulovich; above: Honey & Co restaurant
Despite running late, we were warmly welcomed by the waitress and squeezed in between the other customers, leaving us with the decision of whether to go à la carte, or to have their set menu, which includes a mezze special starter for the table to share (£28.5 per person/with dessert £32.5).  After glancing over at our neighbour's mezze feast of small plates, it didn't take us long to decide on the latter.
Middle Eastern food has blossomed in popularity over the past few years, thanks in no small part to Ottolenghi, Sabrina Ghayour, author of Persiana, and Honey & Co's Packer & Srulovich.  Since the launch of their restaurant, the pair have amassed a loyal following and have gone on to publish two prize-winning cookbooks and open a Middle Eastern grill-eatery, Honey & Smoke, and delicatessen, Honey & Spice.
Given all the hype, we awaited our meal with high expectations; now that the food world is seemingly inundated by tahini and pomegranates, how would Honey & Co set themselves apart?
Our mezze starter comprised of seven small sharing plates, each delicious and intricately flavoured.  There were fresh breads from the kitchen – pitta to dip in their hummus and sesame bread accompanied with olive oil – very good olives, aubergines and the classic Middle Eastern falafel, made with sesame seeds and served with tahini.  The best picks were the fresh quince and hazelnut salad, served with soft cheese, and the cheesy bouikos warm mushrooms, which took the humble vegetable to new heights.

Above: Honey & Co.'s mezze starter
Despite initially fearing the mezze would be too much to start, everything was easily shared between two.  Our plates wiped clean with soft pitta, we were ready for our mains: lamb shawarma, and  Tunisian meatballs.  Portions were again generous – the shawarma was beautifully cooked, a tender stack of lamb on top of a giant flattened pitta, with lettuce, yoghurt and, of course, pomegranates.  The Tunisian meatballs, meanwhile, came with yet more quince, bay leaves and a rich tomato sauce – a refreshingly different combination, if a little too salty for my fellow diner's tastes.
We finished our meal as they do in Israel, with tea and something sweet: cold cheesecake with kadaif pastry and thyme honey.  It was more of a deconstructed cheesecake – a cloud of sweet cheese on top of a thin stack of pastry, with honey, hazelnuts and blueberries.  The only sour note was our choice of tea; the rose & cinnamon infusion was fragrant and lovely, but the Persian lemon & fennel was jarringly bitter.  Thankfully, though, Honey & Co's excellent service was constant throughout and our choice of tea was changed free of charge.
Honey & Co feels like a real family restaurant, the sort of place you'd like to call your local; everything from the friendly staff, to the small interior and the generous portions feels warm and almost familiar. Sarit Packer and Itamar Srulovich are clearly very talented chefs and their menu is a feast of simple, seasonal ingredients taken up to the next level with the rich flavours of the Middle East.  We left Honey & Co contented and full, just as the rain had stopped and the sun was coming out, eager to return one day for more.
Images courtesy of The Guardian & Honey & Co.